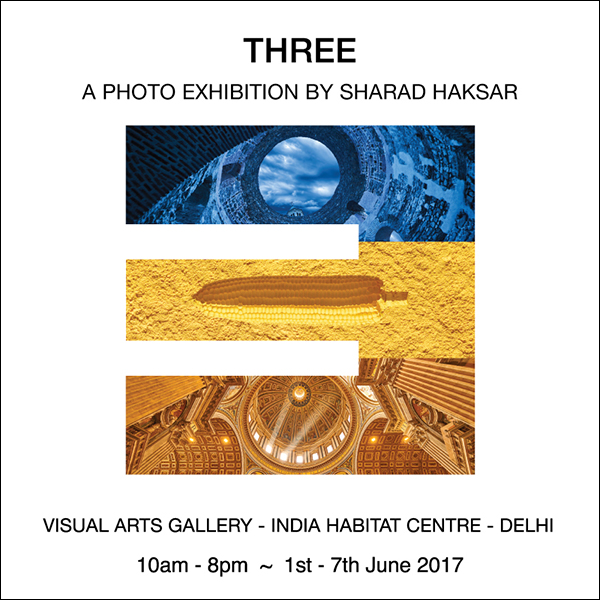 SHARAD HAKSAR'S NEW TRIPLE DELIGHT
Photographer Sharad Haksar is known for his versatility in technique and distinctive style. His pictures are not only visually appealing but thought provoking and have a creative twist. 'Three' is his newest collection as an artist, and it will be unveiled to the connoisseurs at the VISUAL ART GALLERY, India Habitat Centre, Delhi from 1st June 2017 onwards.
'THREE' is a cocktail of three intriguing themes. Two of which are related to his architectural explorations of Croatia and Italy, while the third set is conceptually still life. Here's a little backgrounder:
CROATIA - The country is spotted with old towns and fortresses built with limestone and terracotta, smoothened by foot fall for over hundreds and thousands of years. Sharad has captured the earthy tones in this series.
ITALY: This series constitutes shots of curious conical homes called 'Trulli' built in 16th century in Alberobello and some magical photos of the country.
ILLUSIONS IN IMPRESSIONS: These are photos of ordinary objects made to look extraordinary by NOT actually putting them in the frame. This, Sharad, has done by pressing different objects against coloured powder and lit it up such that it gives the impression of being embossed rather than pressed.
In all, 37 spectacular images will be on show from 25th of November at 11 am. The exhibition will be for seven daysi. Collectors can buy signed limited edition prints starting at just Rs. 12,500.
Title: THREE
Dates: 1st - 7th June 2017
Time: 10am - 8pm
Venue: VISUAL ART GALLERY, India Habitat Centre, Lodhi Road, New Delhi.
Phone: Vinoth - 98411 41311
ABOUT THE ARTIST:
Sharad Haksar is India's most accomplished and acclaimed photographer with accolades from all over the world. A Cannes Silver Lion winner and a D&AD nominee, Sharad is the only Asian to snag a Gold, Silver, 2 Bronzes and 21 honorable mentions at the prestigious IPA Awards.
Popular Photography selected Sharad as one of the Top 10 lensmen in the world in 2005. The same year Adobe Galgo named him the Photographer Of The Year in India. A year later, Luerzer's Archive listed him as one of 200 Best Photographers in the world. Till date, Sharad Haksar has won over 200 regional, national and international awards.
Sharad acquired his craft from masters like Bill Megalos, Constantine Manos, Robert Farber, Sol Negrin and Iqbal Mohamed. The Maine workshops and innumerable brand shoots have honed his skills as an artist with a keen eye for advertising, fashion, still life, travel, and conceptual photography.
Driven by ideas, Sharad is the mastermind behind the world's first camera lens calendar that he has patented. The innovative piece of art is chiseled from a single block of aluminium and has dates running until the year 2032.
Sharad operates out of South India, from his studio, Eye-Light Pictures. Being a passionate creative person with strong design sense, Sharad runs an advertising hot shop in Chennai, called 1pointsize. He is the founder of OneEyeland.com, the world's largest virtual community for creative photographers. The site has over 80,000 registered members with over 8.5 million page views a year.
Past Exhibitons
Art Houz, Chennai: 5th - 7th September, 2014 (Solo Show)
Art Houz, Chennai: 10th - 12th April, 2015 (Solo Show)
Affordable Art Fair, Singapore: 16th - 19th April, 2015
Visual Art Gallery, India Habitat Centre, New Delhi: 5th - 10th May, 2015 (Solo Show)
Art Corridor, The Taj West End Hotel, Bengaluru: 19th - 25th March, 2016 (Solo Show)
Art Bengaluru, Sublime Galleria, Bengaluru: 19th - 28th August, 2016
Art Houz, Chennai: 25th - 27th November, 2016 (Solo Show)
India Art Fair 2017, New Delhi: 2nd- 5th February, 2017
Sublime Galleria, Bengaluru: 10th February - 4th March, 2017 (Solo Show)
Awards
2017
2 Honorable Mentions at the International Color Awards
7 Nominations at the International Color Awards
2016
Rated as one of the Top 3 Commercial and Advertising Photographers in the World by TopTeny
5 Nominations at International Color Awards
2015
1 Honorable Mention at International Color Awards
1 Nomination at International Color Awards
10 Honorable Mentions at PX3 Awards
11 Honorable Mentions at International Photography Awards
2014
1 Silver at APA (American Photographic Artists)
5 Honorable Mentions at International Photography Awards
2012
5 Entries in Communication Arts Photography Annual
3 Bronzes at International Photography Awards
2 Honorable Mentions at International Photography Awards
2 Nominations in Goafest
1 Nomination in New York Festivals
2011
Luerzer's Archive Top 200 Photographers
1 Nomination in Goafest
2010
Luerzer's Archive Top 200 Photographers
1 Bronze at International Photography Awards
3 Honorable Mentions at International Photography Awards
2009
1 Gold in Goafest
1 Entry in Luerzer's Archive
2008
5 Golds in Pepper Awards
6 Silvers in Pepper Awards
5 Bronzes in Pepper Awards
1 Entry in Luerzer's Archive
1 Nomination in Goafest
12 Honorable Mentions at International Photography Awards
2006
2 Golds at the Abby Awards
2 Golds at Spark Awards
1 Silver at Asia Pacific Ad Fest
1 Silver at International Photography Awards
1 Bronze at International Photography Awards
11 Honorable Mentions at International Photography Awards
2 Entries in Communication Arts Photo Annual
1 Nomination at the CLIO Awards
1 Entry in Communication Arts Advertising Annual
1 In-book in the British D&AD Annual
1 Nomination at the Food & Beverage Awards
1 Nomination at the New York Festivals
1 Merit at PDN PIX Awards
2005
Named Top 10 Photographers of the Year by Popular Photography Crowned 'Photographer of the Year' by Adobe Galgo
7 Golds at Spark Awards
1 Gold at the New York Festivals
3 Silvers at Spark Awards
1 Silver Lion at Cannes
1 Finalist at Cannes
1 Bronze at the New York Festivals
1 Bronze at Spark Awards
9 Honorable Mentions at International Photography Awards
2 Finalists at London International Advertising Awards
2 Nominations at FAB Awards (Food & Beverage Awards)
1 Nomination at the New York Festivals
2004
4 Golds at Spark Awards
1 Gold at International Photography Awards
5 Silvers at Spark Awards
1 Silver at International Photography Awards
2 Bronzes at International Photography Awards
2 Bronzes at Spark Awards
1 Bronze at the New York Festivals
21 Honorable Mentions at International Photography Awards
2 Nominations at the New York Festivals
1 Finalist at London International Advertising Awards
2003
1 Gold at Spark Awards
3 Silvers at Spark Awards
2 Bronzes at Spark Awards
1 Nomination at the New York Festivals
1 In-book in the British D&AD Annual
2002
1 Silver at Spark Awards
2 Bronzes at Spark Awards
1 Merit at PDN Pix Awards